Our 2020 Annual Meeting was cancelled due to COVID-19. However, we are still thrilled to welcome 16 new members to the Minnesota Chapter: Nina Axelson, LisaBeth Barajas, Lynette Dumalag, Beth Elliott, Margo Geffen, Michael Kisch, Alissa Luepke Pier, Owen Metz, Thomas G. O'Neil, Keith C. Parker, Luis M. Pereria, Sara Joy Proppe, Atif Saeed, Carissa Slotterback, Bryan Suchy, Mary-Margaret Zindren.
(From left) Cyrus Knutson, Damaris Hollingsworth, Max Musicant, Mathew Kreilich, Jamie Stolpestad, and Carol Lansing (chapter president)
Not pictured: Martha Faust, Elizabeth Gales, Thomas LaSalle, Scott Stenman, James Ziegler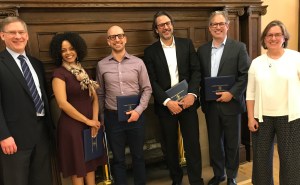 (From left) Jack Byers, Brandon Champeau, Steve Cramer, Christine Wiegert, Tom Whitlock, Paul May, Sara Rothholz Wiener, Todd Anlauf, Amanda Novak, Darcy Futrell, David Frank
Not pictured, Jon Buggy, Michael Schroeder, Kevin Staunton and Kristin Zschomler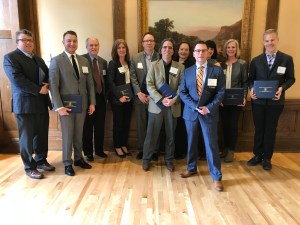 (From left) Julie Esch, Jonathan Weinhagen, Julie Wischnack, Beth Pfeifer, Herbert Tousley IV, Anne Mavity, Maureen Michalski, Eddie Landenberger, James Lehnhoff, Jonathan Sage-Martinson, B. Kyle
Not pictured, Andrew Ahrendt, Kent Carlson and Greg Munson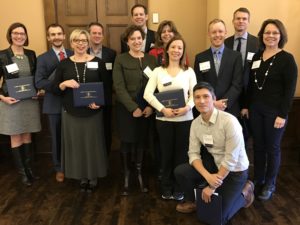 Membership is by invitation only, but we welcome the interest of men and women experienced in the land professions. Practically, a person must have made an outstanding or noteworthy contribution to his or her profession and community and must have distinguished him or herself in academic pursuits. Candidates must have at least ten years of work experience in their field to be considered for membership.
Professional disciplines represented by members include:
Academic
Accounting
Architecture
Community Development
Construction
Economic Development
Environmental
Escrow
Exchange
Government
Historic Preservation
Journalism
Landscape
Market Research
Title Insurance
Transportation Planning
If you are interested in membership and meet the minimum criteria, please contact a member and express your interest.
Each year, we request nominations to Lambda Alpha International by having members propose candidates to the Membership Committee. The Board reviews the applications for nominees proposed by the Membership Committee and approves the candidates, assuming they meet all qualifications.
New member nominations occur on a semi-annual basis, so that qualified members are not delayed in participating in Lambda Alpha International functions. Once approved, an Initiation Ceremony is held at a luncheon or dinner to initiate the new members and meet other members of the Minnesota Chapter.